THE F-SCAN COMPACT FREQUENCY SYNTHESIZER
YOU are convinced that frequency applications attributed to Royal Raymond Rife can help to convert unwellness to wellness and are searching for a suitable device?
F-SCAN COMPACT WITH ANALYSIS DESIGN
We have succeeded to integrate an automatic analysis function in the F-SCAN COMPACT. This means that the user can measure his own resonants in the frequency range from 80,000 Hz. The values with the largest significances are saved automatically for application. The F-SCAN COMPACT with DIRP has the same case as the devices without DIRP. Only one handheld electrode is different because of its sensor segment. Please
Note: DIRP analysis cannot performed with the software. This requires larger equipment such as F-SCAN2 or F-SCAN TOUCH. The analysis is not a diagnosis. The device detects resonants only. The significance of the found frequencies or their causes are not interpreted. It is not a diagnostic device.
The F-SCAN COMPACT remains a device for wellness applications.

Devices with all options have a lead time of a few days only.

How is the F-SCAN COMPACT used?
Handholds (picture below), foot pads (access.) or adhesive pads (access.) connect via the application cable to the device.
An application using low frequencies may be felt like a "tingle". This is normal, not a malfunction and not harmful. The device cannot produce signals above 12Volt. Most Applications run between 30 and 90 minutes with factory settings.
The timer controlling the runtime per frequency can be set to suit user preferences. This will shorten or extend the runtime of an application.
YOUR Frequency Synthesizer should be:
safe
easy to operate
complete
flexible
power independent
mobile
The F-SCAN COMPACT fits your requirements perfectly
The device offers:
Operation via navigation keys, Plastic casing
350 complete Rife applications
10 memory positions for individual applications with up to 50 frequency values each
Battery operation up to 3.5 hrs.
Battery charge via USB-port
Output range 1Hz to 1.7 Megahertz
Frequency stability 30ppm
Signal amplitude adjustable 0 to 12Vpp
3 signal forms selectable: Sine, Square full wave, Square DC-Offset
Adjustable Timer
SWEEP-function between selectable lower and upper frequency limits
Automatic shutdown if unused for 2 minutes
Display-language selection (German, English)
Charge indicator
LED for output control
Graphic display 128 x 64 pixel
Acoustic signals during operation
Dimensions: 105 mm x 66 mm x 19 mm (l x w x h)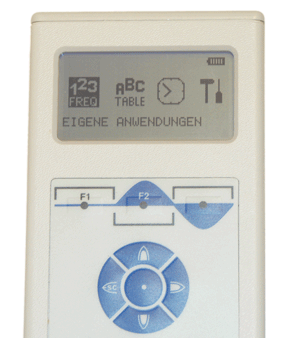 Shipping list for F‑SCAN COMPACT
F-SCAN COMPACT
Battery charger
Mini-USB-cable
Application cable
Stainless steel handholds
Instruction manual
REASONABLY PRICED: US$1111 free freight
Email your full postal address for a pro-forma invoice in your currency to invoice@posteo.de
Free testing for 320 infections to measure your progress: Email your full postal address to freetest@posteo.de